About The Author

"I've always loved apples and the tremendous variety of
healthy products that can be derived from them. "
Hi, my name is Wayne Cascarano and I'm a retired chemist from Montreal region of Québec, Canada.


I was born and raised in the city, but in my early teens my family moved to the suburbs, to an area that was once a commercial apple orchard.

So from mid summer until late fall there was lots of fruit around to eat and process into apple pies, sauce, apple jelly, cider, and of course, apple cider vinegar.

Even windfalls were put to good use during the occasional apple fight!

We were taught, like countless generations before us, that "an apple a day keeps the doctor away" so we usually ate a few daily for good measure.


After earning a bachelors degree in chemistry, I started working for a telecommunications company but at the same time I continued studying at night and obtained a masters degree in organic chemistry.


I retired after working for 32 years, then about 2 years later started this web site.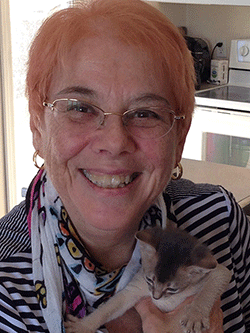 My wife Réjane, a retired schoolteacher, also contributes to the site
and does most of the French translation.

Here she is, holding our abricot tummy Abyssinian cat Maxiloup,
when he was just a kitten.
But how good are apples and apple products for us,
R E A L L Y?
Doing some research on apple cider vinegar will reveal that:
much of the accumulated information about health and other uses is anecdotal because
apple cider vinegar has been used for such a long time


however, modern scientific studies periodically examine some of these claims, several of them resulting in encouraging, valuable results as in the case of - type 2 diabetes (4 scientific studies highlited) and acid reflux.
As a result, I'm always on the lookout for scientific studies on the benefits of apple cider vinegar or any vinegar benefit in general and report on them in this web site - along with links back to the original articles so you can check out the facts for yourself.
I also enjoy drinking apple cider vinegar tonic daily, experimenting with and using ACV around the house for cooking, cleaning, gardening, etc - which allows me to write from personal experience.
I hope this web site will be or has been helpful to you and if you have any comments or suggestions for me, feel free to fill out the
site contact form
. I'll get back to you as soon as I can.
---
About This Site
You might be wondering why I give away so much information for free on this web site. Well it's really a win win situation. You see, I get to help people who are seeking apple cider vinegar related information (a topic I enjoy writing about) while at the same time I earn money online.



I use a web host called Solo Build It (also called Site Build It - SBI). It includes all the tools needed to build a profitable web business.

It caters to everyone including beginners like I was by providing an action guide, a help forum, design templates (no web creating experience necessary), search engine ranking help, etc.

As well, it shows you how to earn money with your site.

Like most visitors, you probably found this site by using a search engine. That's because SBI showed me how to build pages that rank high in all the engines so I can get as much free traffic as possible.

This site currently earns money with Google adds and affiliate programs, just two of many ways described in detail in the SBI action guide.



Several Cool Success Stories
If creating your own web site interests you, then check out the 7 minute video below to see how several everyday people turned their ideas into successful online businesses with the help of Solo Build It!

This video introduces you to :
Carl Trent, a former air traffic controller,
Darlene Abarquez, a former office worker,
Michael Thoenes, a graphic artist and
Wendy Lau a hospital patient with a chronic illness.


Like me, they all started out knowing very little about website building but by following the step by step action guide in Solo Build It! they were able to build successful online businesses based on their hobbies and passions.
Try It Out!
It doesn't matter if you are a work at home mom, retired, or simply someone who would like to earn some extra cash, I can whole-heartedly recommend Solo Build It! to create and host a profitable web site.

Just pick a theme that you know and are passionate about, something that you will enjoy writing about, and let SBI take care of all the technical web site building and hosting stuff.

As well, SBI is completely risk free. If for any reason you find that it's not for you, SiteSell.com will give you a full refund.

So, if you want to give building an online business a try or if you have any questions, check out the SiteSell home page here.




---