Apple Cider Vinegar Benefits Blog
The Apple cider Vinegar Benefits Blog will keep you updated on the benefits of using vinegar, especially apple cider vinegar. Use it to....
be advised of any new web pages that have appeared since your last visit.

keep up-to-date with all additions or modifications to any existing web page on this site.

check-out recommended web sites dealing with the making or use of vinegar.
Subscribing to the Apple Cider Vinegar Benefits Blog
To subscribe to the
Apple Cider Vinegar Benefits Blog
(no e-mail necessary), right-click on the orange RSS button located at the bottom of the NavBar on the Home page, and then paste the URL into your RSS reader.
Or click on the My Yahoo! button if you have a personalized home page there, or the green Follow Feedly button for this news aggregator application.
If you are not sure what RSS is all about or you would like to get a free RSS reader, click on the " What's an RSS feed? " link just below the orange RSS button.
Starting is easy and you will be amazed at how useful an RSS feed can be!
---
Jun 15, 2022
Types of vinegar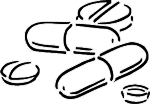 New developments in apple cider vinegar supplements and ACV gummies have been highlighted on this page.
Bragg has developed a new ACV capsule that has the same amount of acetic acid as one teaspoon of liquid apple cider vinegar and …..
---