Pet Care
with
Apple Cider Vinegar
"Amazing how many different ways
ACV can be used to care for your pets!"
As a pet care product, apple cider vinegar (ACV) is hard to beat for its versatility, availability and cost.
Use the unfiltered, organic ACV that has not been pasteurized for best results.

ACV should not be fed however, to a pet who is sensitive or allergic to yeast. In these cases it is believed that the vinegar can feed or exacerbate the problem.

A great number of dogs with skin allergies have been shown to be yeast-sensitive.

Here are some of the more common benefits you can derive by using apple cider vinegar as a natural product for both cats and dogs:



Do you use apple cider vinegar to care for your pets?


Click here to share your vinegar pet care experiences and invite comments from other readers of this web site!

---
Pet Care - Daily Health Tonic
The minerals, enzymes and acids in unpasteurized apple cider vinegar can supplement your pet's existing diet. It can be added either directly to the dog's food or drinking water.
Besides being a good source of easily absorbable potassium, apple cider vinegar aids digestion, inhibits the growth of unfriendly bacteria and helps maintain the proper acid/alkaline balance of the digestive tract.

Many holistic Vets recommend a daily dosage of:

1 tsp (5 ml) for cats and small dogs (up to 14 lb)
2 tsp (10 ml) for medium dogs (15 to 34 lb)
1 tbsp (15 ml) for large dogs (35 to 84 lb)
Note: Do
not
feed ACV to dogs that have irritation of the intestinal tract lining.
If you plan to use it for your pets and yourself regularly, an excellent raw organic apple cider vinegar can be ordered online in 0.5 gallon or 1.0 gallon containers at a very reasonable price, shown below:
(To purchase, click on the Amazon picture. I will earn a small commission, at no cost to you.)
---
Pet Care - Ear Care Product
Unfortunately a large percentage of dog and cat visits to the veterinarian are for ear problems, but the good news is, you can help reduce these visits by cleaning your pet's ears on a regular weekly basis.
An inexpensive way to do this is to dip a soft cotton ball into a solution of equal parts apple cider vinegar and water, and use it to swab the inside of his or her ear.

For an infected ear, use 5 ml of the 50:50 vinegar water solution per 20 lbs (9 kg) of body weight, applying the solution with a syringe obtained from your local pharmacy. Gently rub in the solution then wipe the inside of the ear with a soft cotton ball. This should be done daily for 5 days.

The vinegar helps to control the growth of unfriendly bacteria and other microorganisms that are a common cause of ear infections, and as a result, this will help keep your pets from scratching their ears.
---
Pet Care - Fleas and Ticks
Rather than use commercial sprays, powders, pills or collars that use very toxic chemicals to kill fleas and ticks, many people prefer to take a more natural holistic approach. According to Martin Goldstein, DVM, some of these products could also be harmful to your pets.

As an alternative, Roger DeHaan, DVM, suggests using a homemade shampoo and rinse that kills fleas and at the same time soothes irritated skin:

Add to an 8-ounce bottle of your favorite pet shampoo, 10 drops of tea tree oil and one tablespoon (15 ml) of aloe vera and shake well.
Shampoo your pet as you would normally then wait for 6-10 minutes.
Rinse with apple cider vinegar diluted in water. (1 tablespoon ACV to 1 pint of water)
For minor flea infestations, another recommendation involves washing your pet with a gentle shampoo, followed by a thorough rinse then spraying on apple cider vinegar diluted with an equal amount of warm water. Allow the pet to drip or shake dry.

The fleas will drown in the soapy shampoo water and the vinegar rinse will acidify your pet's skin making it very unattractive to other fleas and ticks.
A good way to check and see if your pet has fleas can be viewed in the following video:
---
Pet Care - Relief for skin problems
Apply unpasteurized apple cider vinegar with the aid of a soft cotton ball, directly to burns or skin acne to soothe and promote healing.

For dry itchy skin, hot spots, or skin infections you can bathe your pet in warm water then rinse him or her with a solution of 1 part ACV to 3 parts water. This vinegar rinse will also leave their coats soft and shiny.
---

Pet Care - Skunk Odor Removal
Bathing your dog or cat in tomato juice is the most widely used method to remove the sharp smell of skunk from any pet that has had an unfortunate run in with a skunk.

If you are caught without a supply of tomato juice, don't fret, vinegar can be used as well. Many authorities recommend you sponge undiluted vinegar into his coat and skin. Be careful not to get the solution in your pet's eyes, allow it to dry and then follow with a mild pet shampoo and warm water rinse.
---
Pet Care - Slimming down Ingredient
For those dogs and cats that need to lose weight, Robert S. Goldstein V.M.D., and Susan J. Goldstein have written an excellent article on how to help your pet lose those unwanted pounds and become happier and healthier along the way.

They include a slimming supplement that you can make at home that is made from kelp, lecithin, vitamin B6 and organic apple cider vinegar. Full preparation details can found in their comprehensive book called "The Goldsteins' Wellness & Longevity Program" along with a multitude of tips for naturally prolonging your dog or cats health.

To purchase this book online, click on the Amazon picture below. I will earn a small commission, at no cost to you.


---
Pet Care - Improved Dog Fertility
Dr. D. C. Jarvis, in his popular book Folk Medicine, recounts the story of a dentist friend of his who was having problems breeding boxer dogs. He had five females in his kennels and only one litter had been born in the last year.

Dr. Jarvis, thinking that this was due to a lack of potassium and other minerals, suggested that the ration of each dog be reinforced daily with one tablespoon of apple cider vinegar.

During the following year all five female boxers produced litters and the puppies were born strong and vigorous.
---
Pet Care - Remove Cat Urine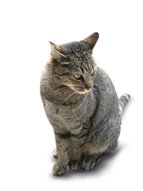 If your cat (or dog for that matter) urinates on your favorite carpet or couch, apply or spray white vinegar onto the soiled area as soon as possible.

Allow it to soak for 10 minutes to absorb the odor and loosen the stain then blot it up with paper towels.
Repeat if necessary.


Always test the vinegar on a small section of carpet or fabric first to make sure it does not fade the existing colors.
---
---
Do You Have
a Vinegar Pet Care Experience
to Share?
This is the place to share your stories on using apple cider vinegar to care for your pet.

If you like, you can include pet photos to highlight your story.

Your stories will appear as a new web page linked at the bottom of this page and all site visitors will be able to comment on them.


What Other Visitors Have Said
Click below to see contributions from other visitors to this page...

---